Bountiful Farms Takes First Place Award for "Best Grass in Mass," for Second Year During Cultivators Cup Competition
The TSRgrow team was excited to participate in this year's Cultivator's Cup, the leading cannabis industry festival and awards competition in Massachusetts. On Labor Day weekend commercial cannabis cultivators from around the state joined together to celebrate their love of the plant, listen to music, and compete for the prestigious Cultivators Cup award for the second year. The two-day event held in Worcester, MA featured musical performances by Busta Rhymes as well as other well-known musicians, local cuisine, vendor tents, sponsor giveaways and the much-anticipated announcement of the grower of the Best Grass in Mass!
For the second year running Bountiful Farms took home first place in the cannabis Flower Category, this year for their Slap and Tickle, just one year after winning the first-place cup for their Pina Grande. The team also came in second place in the Solventless Category for Colorado Chem as well as second place in the Vape Category for Papaya Cake. Congratulations to Zachary Taylor, GM of Cultivation, and the Bountiful Farms team.
TSRgrow is proud to be a growing partner of Bountiful Farms. We have been partnering with Bountiful Farms at their Lakeville, MA facility for the past few years to help them grow their top-quality cannabis products. Slap and Tickle is just one of the award-winning strains growing at their state-of-the-art facility under TSRgrow's Advanced LED Lighting Solutions with GROWHub Crop Steering by lighting.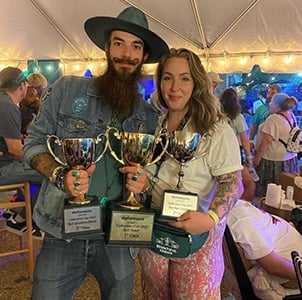 We were very excited to be part of this event and be there with Zach and his team when the winner was announced. What a well deserved honor for them to earn this title for the second year running. We have seen how hard the Bountiful Farms team works and understand their dedication to growing only the best quality cannabis, using top quality products in their state-of-the-art facility. We are truly happy to be part of their team.
The Cultivator's Cup is a great experience for all Massachusetts cannabis cultivators. It's a great way to come together as a community and celebrate this special plant. Congratulations to all the competition winners, competing growers and everyone that worked to make this event a success including Jordan Carlson, aka theFarmacist. Please be sure to visit a local Bountiful Farms dispensary to see why they have the Best Grass in Mass. You won't be disappointed!
About TSRgrow
TSRgrow is an industry-leading designer and manufacturer of commercial LED lighting with remote power management solutions for indoor and greenhouse growing operations. For over thirteen years, this USA-based company has offered horticultural TOTALgrow™ Solutions, best-in-class LED lighting solutions, and industry support to help cultivators achieve the ideal balance of energy and profitability.
TSRgrow's industry leading LED lighting solutions have been developed in cooperation with university and industry leaders and are engineered to maximize energy efficiency using their Lighting as a Platform (LaaP) architecture with remote power servers, environmental monitoring and lighting management solutions. TSRgrow also provides consulting and essential support services.
About Bountiful Farms
Bountiful Farms is a forward-thinking Cannabis Company located in Massachusetts with the mission to do better for patients and customers. The company operates a state-of-the-art cannabis cultivation facility, carefully sourcing each cultivar and attaining to the needs of each individual plant. Bountiful Farms products are sold from their own dispensary. They pride themselves as serving as a trustworthy liaison between consumers and cannabis.
About the Cultivator's Cup
The Cultivator's Cup is the second people's choice awards for adult recreational cannabis in Massachusetts. While it is a competition, the goal of the event is to bring people together through cannabis. Jordan Carlson, founder of theFarmacist, has hosted three other successful cultivation cups of medical marijuana, two in Rhode Island and one in Jamaica. His plan is to continue to the competitions in other legal states.
Explore how TSRgrow can add value to your new or existing indoor cannabis facility. Contact TSRgrow today for information about growing solutions that will help with profitable results and energy efficient crop production. Learn more at www.TSRgrow.com.
For more information, please contact Gail Farias, Marketing Manager, TSRgrow, at gail.farias@tsrgrow.com.