Grower's Find Huge Gains Using TSRgrow's Advanced LED Lighting System for Indoor Cultivation
Written by Marijuana Venture Magazine
TSRgrow President Mikhail Sagal and Vice President Gary Arnold started their LED technology venture roughly 14 years ago and when they transitioned into cannabis in 2016, they brought with them a blueprint for commercial operators that sets a new standard for efficiency as the industry continues to mature.
"When we launched TSRgrow, we decided that we weren't going to just be the same old-school technology," Sagal says. "We had to do something that was meaningful for commercial cultivators and the future of commercial cultivation."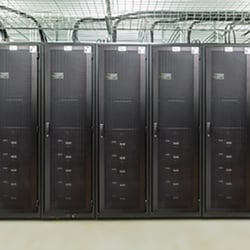 The result was the TSRgrow TOTALgrow Solution™, a highly efficient, game-changing cultivation system that provides growers an unparalleled level of control. The company uses advanced, cultivator-focused LED technology and a novel approach to building grow rooms that removes massive amounts of expensive, heat-producing hardware and routes everything into a central server room, which monitors the entire grow and collects valuable data to help refine operations. The approach allows for an incredibly streamlined operation that provides pinpoint control for operators, minimizes heat and maintenance inside grow rooms and comes at substantially lower costs for installation and ongoing operations.
The company's forward-thinking technology is paying off for cultivators in various markets across the country. Marijuana Venture spoke with longtime operators from the Midwest, New England and West Coast to see how TSRgrow's system sets it apart from the competition.
Mercy Wellness | Santa Rosa, California | CEO Brandon Levine
Brandon Levine has spent the past 25 years growing cannabis in Northern California.
Levine has heard all the promises from lighting companies before. But after talking with TSRgrow, he decided to put the company's lights to a side-by-side test against some of the top lighting brands.
"We hit some of our highest test results ever using their lights," he says.
After running the TSRgrow lights for a year in a 300-square-foot room, Levine chose to use TSRgrow lights throughout his companies new, larger growing facility.
"We're super excited to put these to use on a much larger facility," Levine says. "They're just great lights. They're forgiving. They're easy for maintenance. The company is great to work with. They're about two-thirds the price of competitors' lights and there's a lot less problems."
A Cooler Grow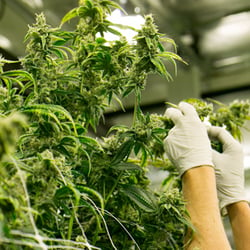 Levine was particularly impressed with the vastly reduced temperature of his grow rooms due to the TSRgrow technology.
"Our solution is, by design, a much, much cooler operation," Sagal says.
By centrally locating the majority of heat-producing equipment commonly found at indoor grows, the TSRgrow TOTALgrow Solution reduces the temperature inside grow rooms by roughly 20% and allows operators to minimize HVAC installation or replace their old HVAC equipment with smaller, state-of-the-art ventilation systems. Moving heat-producing equipment into a central server room was among the first aspects implemented in the TOTALgrow Solution, Sagal says.
"From the beginning, it was always about remote power and remote systems and bringing advanced LED lighting solutions to large scale commercial cultivation."
Levine says the combination of new lights and HVAC gave Mercy Wellness a level of control it had never had before.
The infrared diodes inside TSRgrow's LEDs also help mitigate heat inside grow rooms by targeting the plant leaves in the canopy and heating them to the perfect temperature for photosynthesis, whereas in the past, Levine says growers would have to heat the entire room, floor to ceiling, to the ideal temperature to get the same effect.
Canapa Valley Farms | Lisbon Falls, Maine/Vassar, Michigan | CEO Cliff Miller
For years, Canapa Valley Farms CEO Cliff Miller kept a careful eye on the evolving world of LED grow lights. He didn't want to risk the expense without better control and enough proven data to support switching from the longtime industry standard of high-pressure sodium bulbs.
"We knew cannabis cultivation was going that way, but it was new, expensive and nobody seemed to have good controls for it," Miller says.
But TSRgrow offered a wide range of control and once Miller saw the technology blueprint, and what the company was aiming to do, "it just made a lot of sense," he says.
"We refer TSRgrow to anybody and everybody because aside from being good guys, it's a great product and it really does work well," Miller says.
Once Miller began working with TSRgrow, he noticed several key differences that set the company apart from other lighting manufacturers. The sudden drop in temperature and clean look of the grow rooms was impossible to miss.
"None of the heat or ugliness [of local drivers and dimming wires] was in the facility, in the bays or in the grow room." he says. "It was all in the server-style hub, which kept things clean, sharp and allowed the technology to truly work."
Centralized Power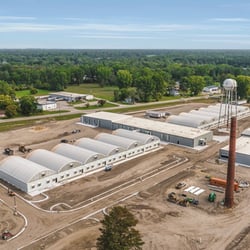 TSRgrow's vision of centralized power is to bring GMP compliant advanced LED lighting and integrated controls together with supporting software, giving operators total control, Sagal says.
Not only is the hardware physically located in one central server room, but everything is connected together, he adds.
"Information is really what we're providing. It's really the integrated enterprise networking of the data that turns it into usable information."
Centrally located, highly focused and easy-to-digest data is rare in the cannabis industry. But it's built into the TSRgrow TOTALgrow Solution along with monitoring software that sends alerts to cultivators before a costly accident happens. This level of access and information is available onsite or through smart devices.
"We love that all our ballasts are server-style, in a single room," Miller says. "It looks like a data center when you walk in there."
Reduced maintenance is also a major benefit of storing the majority of equipment in a centralized location. Levine found this to be especially true when it comes to replacing drivers, which can be a major disruption when plants are fully mature.
"With the TSRgrow LED lights, you can go into the hallway where your server rack is, shut down those lights, pull the driver out of the server rack, replace it and have your system back up and fully functional in minutes," Levine says. "There are no other lights that you can do that with. There are huge benefits just from an operational point of view."
Bountiful Farms | Natick, Massachusetts | GM of Cultivation Zachary Taylor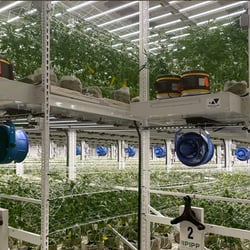 Zachary Taylor has been growing cannabis indoors for 18 years, roughly half his life. As the general manager of cultivation for Bountiful Farms, he oversees every aspect of the company's cultivation, from its genetics all the way to the design of the company's growing facility.
And since implementing TSRgrow's technology in 2021, the cannabis farm has won two Best Grass in Mass competitions for flower.
"We're proud of the product we produce, but we didn't know that was going to happen," he says.
Taylor chose TSRgrow LED lights because they offered the most flexibility as a grower and promised to deliver the lowest costs for the company.
"We listen to our customers," Arnold says. "I know that sounds simple, but it's something that is missing from the industry."
"Listening to customers allows us to continuously innovate our advanced solutions for commercial cultivation," Sagal adds.
Total Zone Control
Taylor says he "eats, breathes and sleeps" cannabis cultivation and a major factor that compelled him to use TSRgrow was the unmatched level of control the system provides.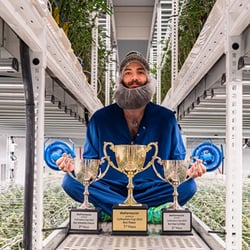 "I am able to be at home and look at my interface and see everything, not only from an ampere standpoint and a µmol standpoint, but I can also mimic things from nature, such as sunrise and sunset." With 12 strains in each room, he's able to give each plant the exact amount of light it needs through the TOTALGrow Solution. "That's unheard of."
The level of control that swayed Taylor is, in his own words, only available through TSRgrow. The GROWHub software allows operators to monitor and control factors such as light levels, temperature, CO2, humidity, EC and soil temperature to the highest degree possible in real time. All of our customers tell us that bringing all those aspects together is a "game changer," Sagal says.
"Our software, remote power servers and advanced LED lighting allows you to really advance your grow to the next level," Sagal says. "Those three pieces working together truly makes this an advanced solution delivering unparalleled quality and yields at the lowest operating costs with maximum oversight."
TSRgrow's Bottomline Advantages in a 20K Sq. Ft. Cultivation Scenario:
Average HVAC and lighting installation savings of $300,000.
An average of $850,000 in annual savings on HVAC and lighting operating costs and maintenance.
Annual production increase of up to $2,096,000 (at $2,000/lb.).
25% reduction in HVAC, OpEx and CapEx.
24-Hour support: 24/7 remote support and notifications through its network operating center (NOC); State and Federal regulations compliance reporting.
20-30% Reduction in total operation energy consumption (TSRgrow has a site survey strategy that identifies power quality and efficiency opportunities).
TOTALzone Control gives unparalleled control of every genetic/strain.
GMP tracking of people, plants and processes – recorded and saved for historical reporting of operations, management, and quality compliance.
Sustainable energy with unparalleled quality and yields.
Contact Us Today to Learn More!