Mediflor Organics

Warwick, Rhode Island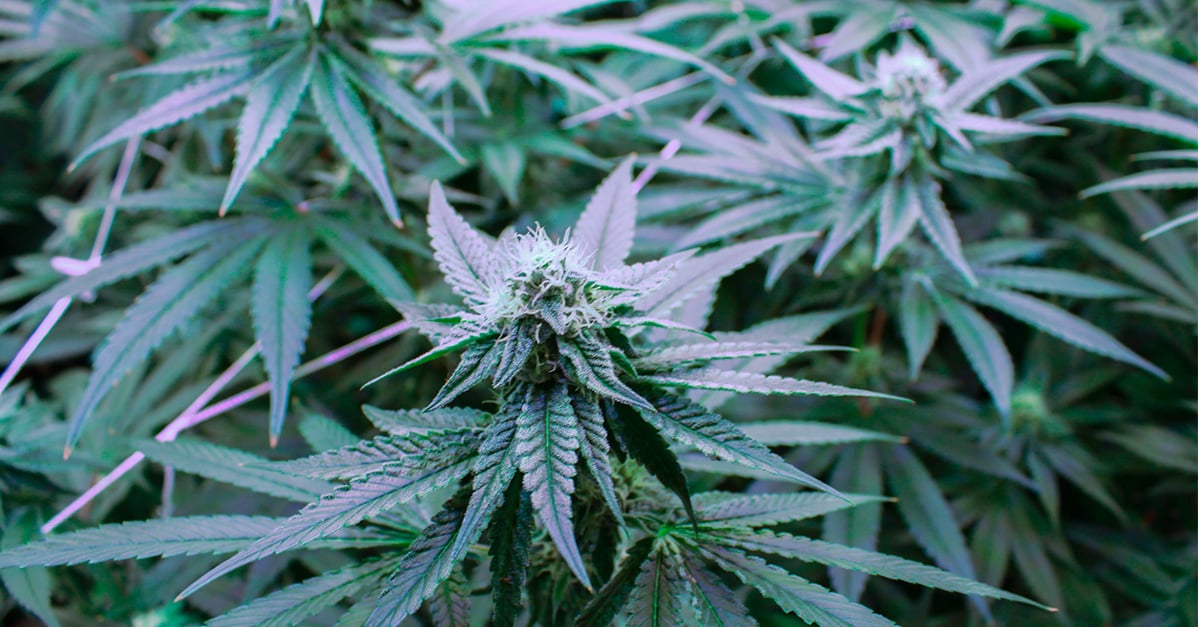 The Mediflor Organics Story
Cannabis legalization in the US has been an ongoing struggle for many businesses, as strict regulations and stigmatization keep a tight leash on growers and the industry. But at Mediflor Organics, this Rhode Island microgrow is peeling back the layers to provide quality, organic medicine to the Ocean State with the powerful spectrum of TSRgrow LED lighting solutions.

Beginning their business in 2018, Nick Lacroix and Mike Keller experienced many of the challenges growers face but persevered and commenced operation in 2019. While building out the space, they knew they would need the perfect lighting solution to pursue their goal of providing natural healing to Rhode Island.
To achieve their goal, Mediflor selected TSRgrow TG-100HVR LED lighting solutions. With a full cannabis spectrum, the TG-100HVR LED lighting system is designed to deliver a superior cannabis growing solution at significantly reduced power over HPS without sacrifice to production quality and yield targets.
Holistic Healing Through Organic Growth
Integral to the success of the Mediflor team, long-time grower and advocate for sustainable farming, head cultivator Mathew Barletta used his experience and expertise to implement a variety of organic growing methods. Using a probiotic compost tea, they've been able to "push the cannabis...to a level that is hard to achieve with bottled nutrients and more commercial methods," said Barletta.

Throughout their work, their emphasis on providing high-quality, organic medicine remains at the forefront of their growing philosophy. "We're making medicine, not selling drugs," said Dan. At Mediflor, growing cannabis wasn't a numbers game, according to Barletta, who said "I never wanted to do it for commercial ...you know, how many pounds I can get...it's always been something I can feel good about -- contributing to the world."

It's flowing with the TSR lights better than he's ever done. The TSR lights and the organics with the soil, we're talking about a combination in alchemy that's probably unseen.
The Perfect Partnership
Making the decision to introduce LED's into their growing operation was a big commitment, and the team knew that they couldn't settle for just any light. Compared to the team's previous experience with high pressure sodium (HPS) lighting, they knew they needed a more efficient and environmentally-friendly solution that would deliver the results they were looking for - if not more.

After extensive research and evaluation, TSRgrow easily stood out among its peers. TSRgrow's commitment with TOTALGrow Solution brings customers a unified knowledge base, cannabis specific spectrums that outperform HPS and integrated hands-on support unparalleled by others in the industry. TSRgrow views each customer as a partnership for future referenceable success.

"Mikhail," the President of TSRgrow, "was able to take me inside a grow and see his lights in production. A lot of these guys made a lot of promises. All their datasheets, it's all the same. But seeing with my eyes is what got me to make the move," said Nick Lacroix.



Combining the right conditions, Matt's expertise and TSRgrow LED lighting, has created amazing results for the Mediflor team. "It's flowing with the TSR lights better than I've ever done. The TSR lights and the organics with the soil, we're talking about a combination in alchemy that's probably unseen," said Dan.


Burning less fossil fuels while maintaining high-quality production, TSRgrow LED lighting provided results that coincided well with Mediflor's organic growing methods. Mediflor has been able to produce a high-quality product that has no chemicals or pesticides while harvesting higher yields then they were with HPS at 50% less energy consumption -- transcending the norm with organic growing.

"The finish, the quality, it brings out…Everyone's always looking at the THC content but...there are so many phytochemicals, so many cannabinoids...I feel like things like organics and these lights are bringing out more of those," says Dan. Yet despite their disregard for bag appeal, Mediflor achieved the highest THC content in the state of Rhode Island after their first grow cycle.
The Future
As they grow, Mediflor is looking to expand their space and is investigating retail options. With a promising future ahead, the team is excited for what comes next and "moving forward, we will follow TSRgrow's lead."

Mediflor Organics products can be found at Thomas C. Slater Compassion Center and Summit Medical Compassion Center.
Ready to Get in Touch?
We're ready to help you find a custom solution for your business. Let's get growing!