TSRgrow Announces Sponsorship of Cultivators Cup Cannabis Cultivation Competition
TSRgrow to Sponsor Cannabis Cultivation Competition Presented by theFarmacist and Solar Cannabis Co. in Somerset, MA
WARWICK, RI - August 6, 2021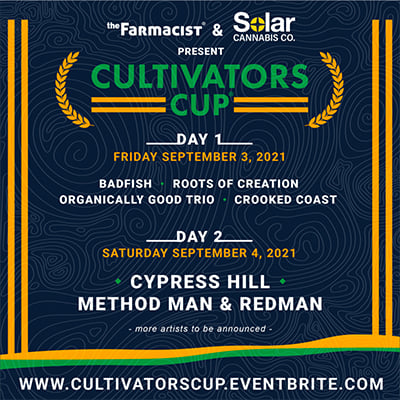 TSRgrow is excited to announce their sponsorship of the Cultivator's Cup hosted by theFarmacist and Solar Cannabis Co. The two day Cannabis culture festival is happening Labor Day weekend, starting Friday, September 3rd and concluding Saturday, September 4th, 2021 in Somerset, MA. The 21+ event is entirely centered around celebrating, welcoming, incorporating and building community around cannabis. The results of the Cultivators Cup competition will be announced and celebrated during an event that will include top-notch entertainment including Cypress Hill, Method Man and Redman amongst other well-known musicians, diverse, upscale food, artisan and industry vendors and an epic cannabis experience.
Of course, the main event is the cannabis cultivation competition, where local commercial cultivators will be judged on different strains of their flower. The judges' kits are available for purchase exclusively at Solar Cannabis Co. The kits include 28 different strains including a judging sheet for each, an event pass and awesome swag. TSRgrow is thrilled to participate in this event alongside others in the cannabis community. They are also excited to see who amongst all of these great cultivators wins the competition. They currently have two clients participating in the competition, Gibby's Garden and Bountiful Farms and we wish them well in the competition. Best of luck to all of the growers participating in the competition. We look forward to seeing the best-of-the-best cultivators in Massachusetts.
Tickets to the event are available for purchase through eventbrite and we hope to see you there. There will be off-site parking and free shuttles to the event. Learn more about the competition by visiting the Solar Cannabis website.
"We're excited to see who's got the best grass in Mass and hope you'll come out and celebrate with us!" says co-founder and VP of Sales and Marketing at TSRgrow, Gary Arnold.
About TSRgrow
TSRgrow is an industry-leading cultivation designer and manufacturer of commercial LED lighting with remote power management solutions for indoor and greenhouse growing operations. For over twelve years, this USA-based company has offered horticultural TOTALgrow Solutions, best-in-class LED lighting systems, and industry support to help cultivators achieve the ideal balance of energy and profitability.
TSRgrow's industry leading LED lighting solutions have been developed in cooperation with university and industry leaders and are engineered to maximize energy efficiency using their Lighting as a Platform (LaaP) architecture with remote power servers, environmental monitoring and lighting management solutions. TSRgrow also provides consulting and essential support services.
About the Cultivator's Cup
The Cultivator's Cup is the first ever people's choice awards for adult recreational cannabis in Massachusetts. While it is a competition, the goal of the event is to bring people together through cannabis. Jordan Carlson, founder of theFarmacist, has hosted three other successful cultivation cups of medical marijuana, two in Rhode Island and one in Jamaica. Solar Cannabis is a Cannabis company that provides industry leading wellness and alternative therapy products with a smaller energy footprint. They are committed to sustainable and innovative practices to cultivate a better future through cannabis. To purchase tickets, click here now.
Contact TSRgrow Today
Explore how TSRgrow can add value to your new or existing indoor cannabis facility. Contact TSRgrow today for information about growing solutions that will help with profitable results and energy efficient crop production. Learn more at www.TSRgrow.com.
For more information, please contact Gail Farias, Marketing Manager, TSRgrow, at gail.farias@tsrgrow.com