Zone Control with LED Lighting
Elevate your grow room production with TOTALzone Control, the ultimate crop steering solution powered by TSRgrow LED lighting. This state-of-the-art technology empowers growers to customize their grow space by strain and customize lighting configurations, providing complete flexibility for each strain bench or rack. Our intuitive GROWHub software streamlines the process with advanced monitoring, enabling growers to modify lighting settings on-the-go, including the ability to dim or turn on/off individual fixtures for optimized grow room zoning. Unlock the full potential of TOTALzone Control and revolutionize your cultivation's crop steering capabilities.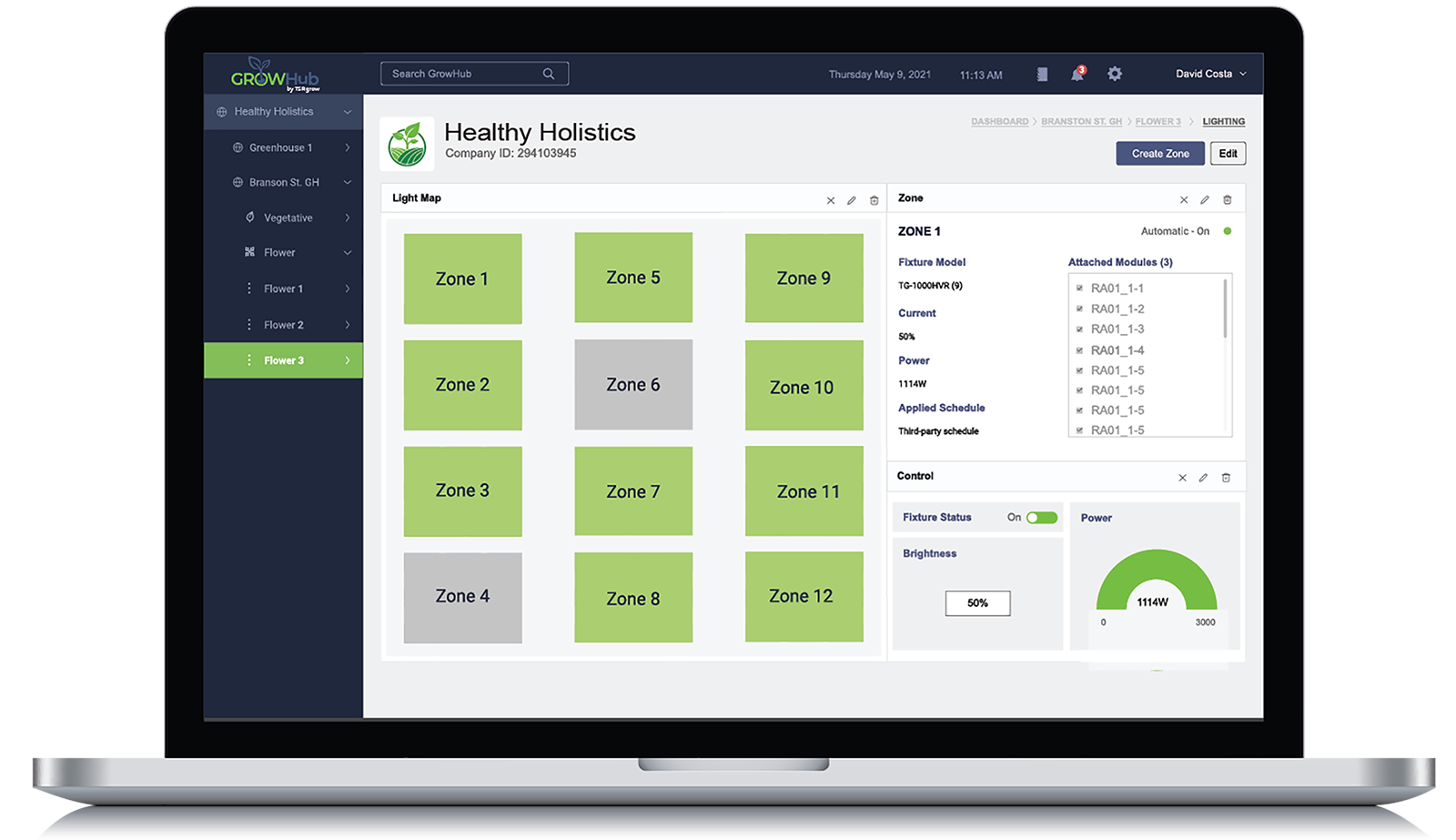 Revolutionizing Commercial Cultivation: The Ultimate Game Changer.
Unlimited Lighting Zones Setup by Strain.
Craft Tailored Recipe Profiles for Every Strain to ensure optimal, consistent quality yields while keeping costs at a minimum.
Implement Track, Trace, and Record Technology for Compliant Reporting in Anticipation of Upcoming GMP Regulations.
Discover the Optimal Lighting Recipe for Every Strain in Your Cultivation Space and Create Master Recipes.
Elevate Your TOTALgrow Solution with Precision and Gain a Competitive Advantage
Discover the Perfect Strain Recipe for Your Next Grow with the help of TSRgrow's TOTALzone Control. Let our advanced technology guide you to the ultimate harvest.
Customer Testimonial
"I am able to be at home and look at my interface and see everything, not only from a ampere standpoint and a µmol standpoint, but I can also mimic things from nature, such as sunrise and sunset. With 12 strains in each room I'm able to give every strain the exact amount of light it needs. That's unheard of!"
- Zachary Taylor, GM Cultivation, Bountiful Farms